Summoners war is a very popular turn-based RPG for mobile device games that are released by Com2Us in 2014. Also known as Summoners War: Sky Arena, the game is very popular because of its easy-to-use mechanics and compelling hero collecting aspect. In summoners war, there are around 1000 types of creatures that you can collect and much more. If you want to have some great fun playing and also get some exciting discounts in Summoners war, then take a look at our latest Summoners War promo codes for 2021, and a few older keys as well.
Summoners War Promo Code
SW2021MAY58 : Use this promo code to get some rewards (New)
SW7THTK887 : Use this promo code to get some rewards
old ones worth checking
SW2020AUG82 : This coupon code is for 1x Fire Scroll
SW2020JUL49 : Yet another one for 1x Mystical Scroll
SW2020MAY20 : for 50x Exclusive Stones
SW2020APR67 : Gives you 1x Wind Scroll
WHOSNEXTS13 : Yet another promo code you can try for rewards
SW2020MAR91 : Gives you 1x Water Scroll
SWTWRTA517 : Use this promo code to get some exciting rewards
TEAMBATTLEISHERE : Use this promo code to get some rewards
SW2020JUN16 : for a 3x Mystical Scroll
SW2020FEB43 : This code is for 1x Fire Scroll
Summoners War Promo Code Reddit
Here is some exciting summoners war promo code from reddit
GOGOSWC2019 : Use this promo code to get free gaming items to use during the war. Which are very usable during the war. Both existing, as well as new player can redeem this code. However, it is valid only 1 time on any usable account.
CHEER20SWC19UP : This Coupon code can be useful for regular spenders in Summoners War, they will be rewards some extra privileges that are not offered to average players. This code is only valid for the first 99,000 players.
COM2USMAANSE :Use this coupon to get 20 L&D Scroll Pieces straightaway. 100 Crystals 3 Mystical Scrolls and 200 energy, so hurry up and grab the reward as soon as possible!
Summoners War Codes For iOS and Android
Check out the known Android and iOS Summoners War codes for 2021 below
quizfire (IOS) – Fire scroll
CMONSUMMON (IOS)
SWCRETURNS (IOS)
SWC20SAIKO (IOS)
bishengswc (IOS) – 150k Mana, 1 ms)
laotie666 (IOS) – 100 Energy, 1 ms)
quizwind (IOS) – Wind scroll
lostcenturiacbt (IOS)– 1 elemental scroll each)
nihaoswc2020 (IOS) – 100 Energy, 100K mana)
2020tournoiswc (IOS) – 300k mana stones, 1 water scroll)
swc20207777 (IOS) – 100x Summoning Stone, 1 Mystical Stone)
megaswc2020 (IOS) – 150x Energy, 1 water scroll)
swc2020daebak (IOS)– 100x Energy, 100k mana)
LETSWATCHLT14 (IOS) – 150,000 Mana Crystals, 1 Mystical Scroll)
summonfighter (IOS)
HISASHIBURISWC (IOS) – 50 Stones, 100k mana
theshift (IOS) – 2 MS
swcwillreturn (IOS) – 5x mystical scroll)
shobuapac20 (IOS)– 50 energy, 50 crystals, 200k mana)
COM2USCAPCOM (IOS) – 1 MS
HAPPYLTS14 (IOS) – 1 Water Scroll, 1 Fire Scroll, 1 Wind Scroll, 100 Energy)
cuatworlds20 (IOS)
nazoubuxie (IOS) – 50 crystals, 1 ms)
SWC2020KAIMAKU (IOS) – 100 Energy, 1 MS
swdevilmon (IOS) – Devilmon
OUCHISWC2020 (IOS)
staynplaysw (IOS)– 200k mana, 100x Energy, 200x Crystals)
SWC2020AINI (IOS) – 100 energy, 50 crystals, 100k mana)
2getherswc2020 (IOS) – 50 Energy, 300k Mana)
pobkaneucup (IOS) – 3 wind scrolls)
quizwater (IOS) – Water scroll
Summoners War – All you need to know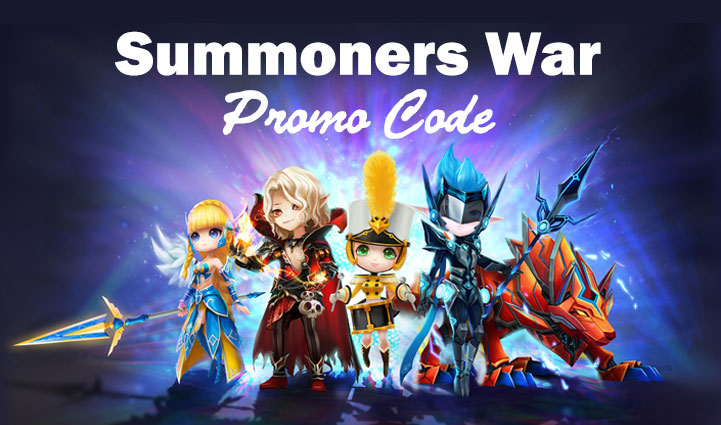 Multiplayer games have always attracted more players to themselves. Rightly so, the entertainment that multiplayer games provide is unparalleled in the gaming industry. Summoners War: Sky Arena has been one of the most popular mobile online multiplayer games since its release in 2014. Having over 90 million players worldwide and along with its select TBS (Turn-based strategy) involvement made its successful venture even more predictable. In short, the game is all about players assuming the role of a summoner who opens different scrolls to gain or receive other monsters to fight in turn-based battle. The in-app purchases of the game have been more and more popular with the ubiquity of promo codes.
What is a Promo Code in the Summoners War
The first question that appears in your mind must be, what is a promo code? Promo Codes are short for promotional codes. As the name indicates, promo codes aim to promote a particular product by scheduling special discounts for people having a code. These are part of the marketing strategies of a company. Promo codes are mainly a thing of this online era. Online stores provide special coupon codes to some selected people based on a lottery, loyalty, etc. After that, people having access to the code can enroll it in the specified place and get a specialized discount offer. As we know, games- mostly mobile games that are played in online mode-avail online store protocol for purchases. Thus people having a promo code can enter it in a particular place to avail discount. So, all you need to make a discount to buy specialties in Summoners War is to have a unique promo code.
How to Redeem Summoners War Promo Code
Using a promo code is pretty simple and straightforward, requiring just a caution of exact typing in the correct place. We have formulated a general guideline or steps to follow to avail of your promo code discount appropriately.
Firstly, you need to run the Summoners War application. The main screen contains an Event icon located at the top right corner of the screen, just below the crystals. You need to tap on the Event icon then. Nextly, select "Game guide." Then scroll to the bottom of the screen, and tap on the banner which says- "Enter your promo code here." Finally, you need to type the promo code as it is available on the coupon exactly and tap "Enter." Your promo code shall then be automatically processed to yield the designated discounts or generate appropriate rewards.
Where to get a Promo Code
Now the question popping in your mind must be: Where can I find such a code to exhibit appropriate discounts and rewards for my Summoners War game?
You can search for plenty of available promo codes through the internet. Many sites host promo codes for popular games, such as the one we are interested in – Summoners war. Like, for summoners war promo code, Reddit can be a good site or community to look for. It hosts many promo codes for various rewards accumulated from multiple sources. All it requires is to scroll through your search results patiently for a little time. Don't get disheartened if one of them doesn't work because promo codes have an expiry, and you should keep an eye on the sites to avail of the correct reward at the proper time through promo codes.
Conclusion
Now, you have a clear idea of using a promo code and where to receive it. Get started with your playing of the game now as you have gotten more robust and powerful with all the rewards you have received through different summoners war promo codes!! Also, make sure to bookmark us for future updates.